'Tis the season, and with Christmas as well as the New Year just around the corner, a big Flipkart sale is all that was needed. Flipkart's last big sale which is the Flipkart Big Shopping Days sale of the year from 18th December to 21st December however is just a fraction of what the Big Billion Sale days, but will still come with great and exciting deals with which we would bid a happy goodbye to 2k16.
Fashion and Electronics, including watches and small appliances, will contribute to the sale volumes. The discount will be ranging from 10-20% on electronic appliances, but for the fashion category, it will range from somewhere between 40% and 70%. Big discounts can be expected on smart phones as well. The OnePlus 3 phone is expected to be priced under Rs. 20,000 which was initially launched at Rs. 27,999. Flipkart will also have the Apple watch and Moto 360 Gen 2 available at huge discounts.
All the SBI card users will get an extra 10% off on the shopping days. Another good news for all the shopaholics is that the top 10 spenders can win themselves a trip to either Europe, Sri Lanka, Andaman, Mauritius or Himachal Pradesh. Also, a Win-Win offer has been introduced through which a lucky customer will get a chance to shop for free from the website. If you are a non-user, you are highly recommended to sign up as early as possible, register your email ID and your phone number and begin your shopping free and get everything that you want from mobile phones to laptops to power banks to clothes, shoes, bags, accessories, all under one roof.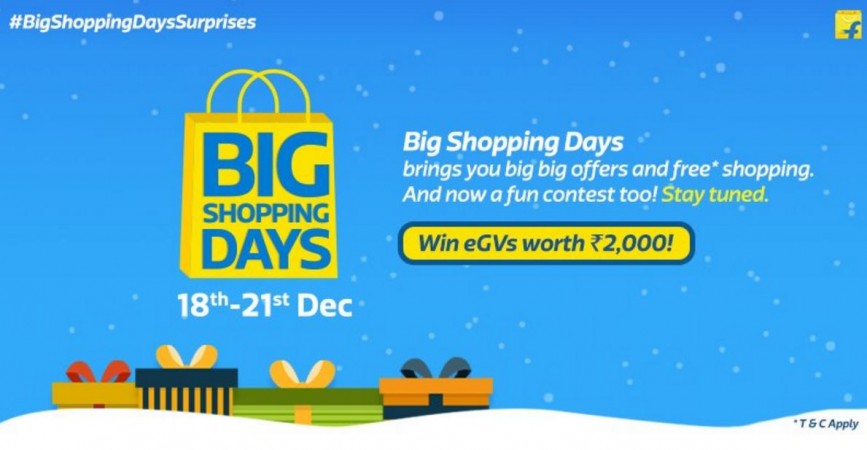 There will be deals available only on the Flipkart App, best deals and  short time deals and you cannot afford to miss any one of them. Even though the offers have not been clearly declared yet, but there will be great price discounts and exchange deals on smart phone launches during the sale days. During the Big Billion Sale, Flipkart customer's saving were approximately 1000 crores and though this sale is not as big as the Big Billion, customers can still expect to save a lot of money and get everything that they want.
Inspite of the 5-7% dip in sales due to Government's decision on currency notes, the sale event will not be affected. So, gear up for the last huge sale of the year and sit with your laptops, computers or mobile phones on the 18th of December, log into Flipkart and grab the best that you can!
Stay tuned for the season's biggest deals and discounts! You never know, Flipkart may have some wonderful surprises for you.